Want whiter teeth?
Plaque and gum disease can have an adverse effect on dental health. Our talented hygienists are dedicated to supporting you by providing various cleaning treatments and keeping dental problems at bay.
If you wear braces, make sure that you regularly see one of our hygienists to help you care for your gums and teeth.
ADVANTAGES OF TOOTH WHITENING
People often find that their confidence improves after whitening their teeth.
Rather than using a whitening kit, visit Kenley Dental for treatment that has reliable results.
Our procedure is safe and carried out by a professional.
The treatment is non-invasive and straightforward.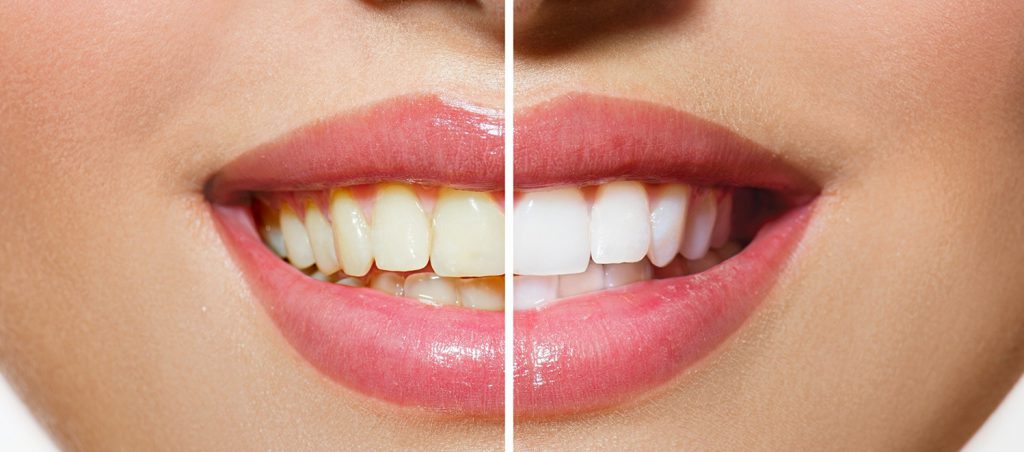 Teeth whitening is a non-permanent process that lightens the colour of your teeth by several shades. It can last between a few months to a few years, though the actual length of time varies from person to person.
Step by Step
Tooth whitening is usually achieved through professional bleaching. Our dentists will let you know if this is the right option for you.
A rubber shield or gel will be placed on your gums in order to protect them.
Using a special tray, the whitening product will be applied to your teeth.
The 'active ingredient' in the product gradually breaks down.
Oxygen enters the teeth's enamel and the teeth lighten in colour.
DOES IT HURT?
Mild sensitivity is normal with whitening, simply because as you remove the staining particles you expose small pores in the tooth which forms a pathway for cold stimuli directly to the middle of teeth causing that short sharp sensitivity pain. The sensitivity is reversible.
DOES IT DAMAGE MY TEETH?
No, home whitening using very low levels of whitening gel is a non-invasive and safe treatment. In fact, 3 weeks of home whitening does the same amount of erosion to enamel as drinking 2 cans of coca cola!
Does whitening have any effect on existing dental work?
Tooth-coloured composite fillings or ceramic (porcelain) tooth restorations can't be lightened with bleach. They remain the same colour. Therefore, you will have to consider what your smile will look like if your natural teeth get lighter but your restorations do not. This is a good topic to discuss with your dentist, who can run through the options in your particular case.
What stains my teeth?
Teeth can become stained through numerous factors, including the consumption of certain foods and beverages. For instance, tea and coffee can change the natural colour of teeth.
TRANSPARENCY
At Kenley Dental, we provide our patients with a transparent and straightforward service. We won't keep you in the dark about treatments and their prices and our dentists will do their best to answer any questions you may have.
PATIENT'S BEST INTEREST
Our patient's best interests are at the heart of what we do. We'll give you our top tips on preventative care, helping you to maintain excellent oral health outside of the practice. We'll advise you on suitable cosmetic and restorative treatments and make sure that you're fully informed before going ahead with any procedures.
MINIMALLY INVASIVE
We pride ourselves on providing treatments that are minimally invasive, which means that preserving the healthy structure of your teeth is always one of our top priorities. We'll always look for signs of tooth decay so that we can treat your teeth as soon as possible.
FRIENDLY TEAM AND MODERN PRACTICE
The team at Kenley Dental are friendly and reliable. We'll always work hard to ensure that your visits are stress-free. You can relax knowing that our modern practice uses the latest technology to bring you the best dental services.
I love my new whiter smile. I am not ashamed to smile for photos any more. Thank you to Dr Patel and the team.
Miss A. S.
Glad I found this practice, very nice environment and wont be going anywhere else as of now!Dr P Patel I would highly recommend.
Mr M. F.
Absolutely great and high quality service, friendly and welcoming atmosphere at very reasonable prices. I went in a for a simple clean and filling which was done very quickly and efficiently. It's been 6 weeks and I've had no issues.
Mr A. S.
Phenomenal service in a brilliant location. Dr Patel was very intuitive and confident in exercising procedures. Highly recommended!
Mr D. R.
I have always been an extremely nervous patient at the dentist. The team put me at complete ease during my visit from the moment I walked in. Dr Patel was very patient with me throughout the whole procedure and my treatment was professional, painless and effective. I'd recommend Dr Patel and the team at Kenley Dental practice to all I know.
Miss S. C.
Pricing
The team at Kenley Dental firmly believes, that dental treatment should be affordable, transparent and of high quality. Our finance options have been created to ensure treatment is affordable, resulting in a wider range of treatment options available to the patient.
TEETH WHITENING
£350
1. Assessment

2. Manufacture of custom made bleaching trays by highly skilled dental technicians

3. 8 syringes of whitening gel (10% or 16% carbamide peroxide gel depending on your choice)

4. Pre tooth whitening shade taking and picture

5. Post tooth whitening shade taking and picture to see improvement in shade of teeth


BOOK NOW